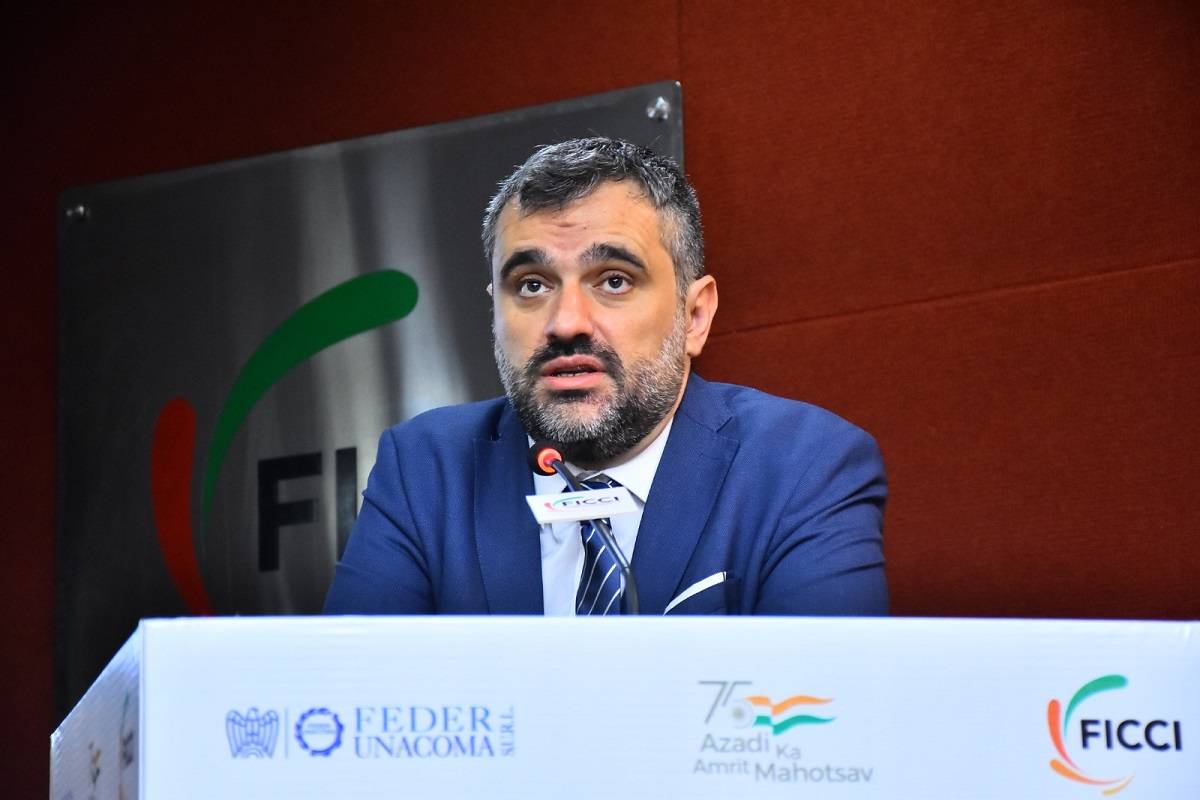 This meeting which took place at Federation House in Delhi was addressed by Mayank Rastogi, Joint Director at FICCI, David Gallarate, FEDERUNACOMA, Shaurav Pandey, Deputy Director at FICCI, and many other senior officials from industry. The "Industry Meet" began with the opening remarks by Mayank Rastogi followed by a screening of the film on EIMA Agrimach India 2009-2022 & Way Forward. After the film screening, David Gallarate and Shaurav Pandey further continued the meeting with presentations on EIMA Agrimach India 2023.
Karnataka will be witnessing one of the biggest B2B events in the agri domain the "EIMA Agrimach India 2023," for the second time beginning from 30 November- 3 December 2023 organized by FICCI and FEDERUNACOMA. 4-day mega agri exhibition co-organized by the Ministry of Agriculture and Farmers Welfare and the Indian Council of Agricultural Research will exclusively focus on farm mechanization and will bring all the stakeholders to one platform.  This one of its kind event taking place at the University of Agricultural Sciences, GKVK in Bengaluru will be offering a single venue interface between Indian & global players in the agri-machinery sector.
The 8th edition will have Live Demonstrations of Agri-machinery, B2B, B2G & B2C Meetings, Thematic Conferences, New Product & Machinery Launches,  Progressive Farmers' Delegations & Farmers' Training Sessions by hosted international guests.
What's New About This 8th Edition of EIMA Agrimach India 2023?
The duration of the event has been extended from a 3-day to a 4-day program.

A separate gallery has been set up near the inaugural area exclusively for the launch of new machinery.

Incorporation of cutting-edge technologies such as drones and surveillance services.

Farmers will receive training sessions on new technologies, with 3 different companies showcasing their machinery.

Exclusive interactive sessions between MSME companies and international buyers.
What makes EIMA Agrimach India 2023 worth visiting?
EIMA Agrimach India 2023 presents a unique opportunity for you to be at the forefront of the agricultural machinery industry, alongside leading global companies showcasing their latest innovations and developments. With over 40,000 visitors, EIMA Agrimach India is the premier trade show in India for agricultural machinery. Supported by the Ministry of Agriculture & Farmers' Welfare, Government of India, the event provides an unparalleled platform for participants to engage with policymakers, agribusiness industry leaders, and delegates, facilitating valuable interactions and networking opportunities.
Established in 1927, FICCI is India's largest and oldest premier business body with a rich history intertwined with India's struggle for independence, industrialization, and economic growth. As a non-governmental, non-profit organization, FICCI serves as the influential voice of India's business and industry, advocating for their opinions and concerns. Through policy advocacy, stimulating debates, and engagement with politicians and civil society, FICCI plays a crucial role in shaping India's business landscape. It supports members from both the private and public corporate sectors in India, as well as global corporations, drawing strength from diverse regional chambers of commerce and industry across states, and reaching out to over 2,50,000 businesses.
FederUnacoma, the Italian Agricultural Machinery Manufacturers Federation, was established in 2012 as a federation to consolidate the activities of Unacoma, the National Association of Agricultural Machinery Manufacturers founded in 1945. The Federation brings together various associations representing Italian manufacturers of agricultural implements (Assomao), self-propelled machines (Assomase), tractors (Assotrattori), components, and engines for the represented sectors (Comacomp), and represents them both in Italy and internationally. FederUnacoma's member manufacturers contribute to 80% of the national production in the represented sectors and account for 60% of exports.
First published on: 26 Apr 2023, 16:00 IST