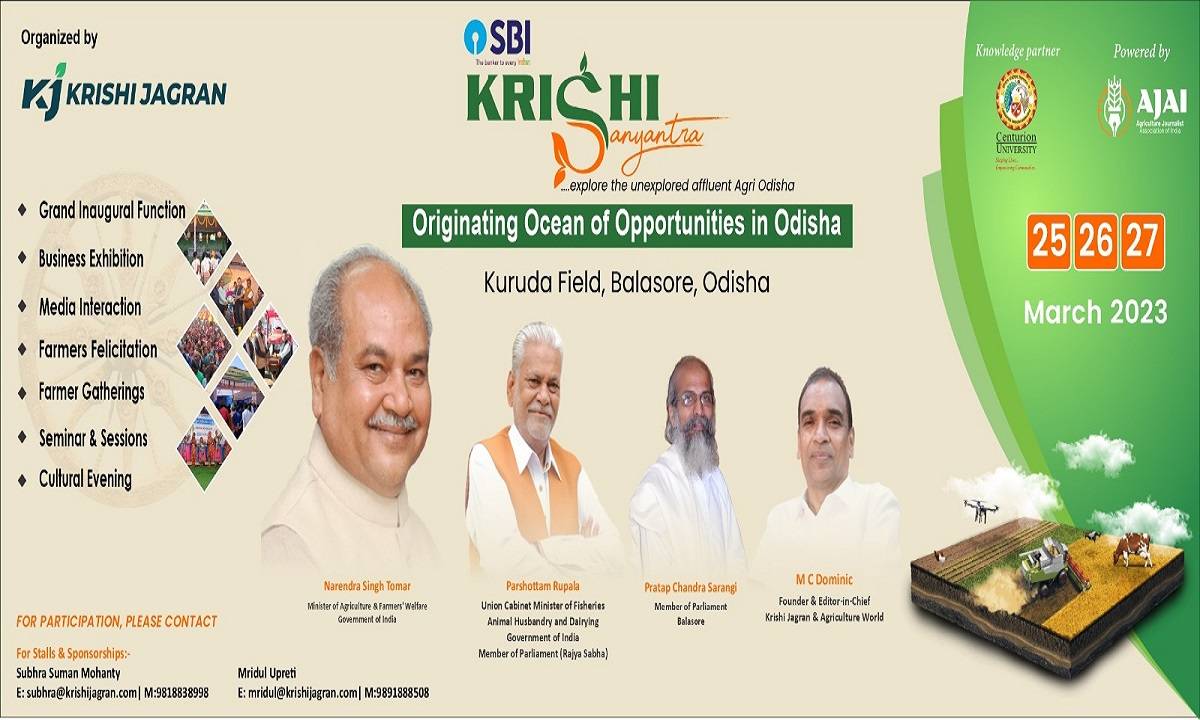 Union Minister of Agriculture and Farmers' Welfare, Narendra Singh Tomar, Parshottam Rupala, Union Minister of Fisheries, Animal Husbandry and Dairying, and Pratap Chandra Sarangi, Former Union Minister of State for MSME & FAHD and Member of Parliament, Balasore are all set to attend the history-making mela in Odisha today. 
The event is organized by Krishi Jagran from 25 to 27 march 2023, with the theme being "Explore the Unexplored Affluent Agri Odisha."
Over 200 exhibitors, including manufacturers, dealers, and distributors of agricultural machinery and equipment, are participating in the mela.
The exhibition is showcasing a wide range of innovative agricultural technologies, including tractors, seed drills, planters, cultivators, harvesters, and other farm equipment. Visitors will also get a chance to witness live demonstrations of the latest agricultural machinery and equipment. 
Experts are also present to provide guidance and answer any queries regarding the use of these technologies in this 3-day event.
In addition to the exhibition, the mela is hosting several seminars and workshops, business exhibitions, farmer felicitations, cultural evenings, and more. These events will provide a platform for farmers to interact with experts and gain insights into the latest agricultural practices.
The Krishi Sanyantra Mela 2023 is a great opportunity for farmers and agriculturists to learn about the latest agricultural technology and equipment, exchange ideas, and network with industry professionals. The event is expected to attract a large number of visitors from across the state.
For more information on the event, interested individuals can contact the organizers directly.
First published on: 20 Mar 2023, 12:05 IST